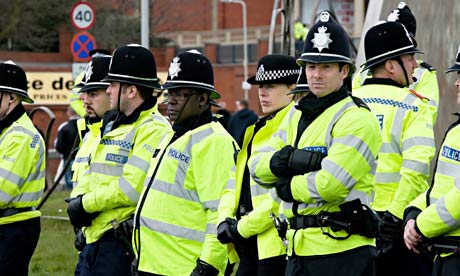 New figures obtained by Labour London Assembly Member Joanne McCartney show that in May this year (the latest period available) there were 1,209 vacancies for police sergeants and constables across the capital's borough forces.
High vacancy rates leave "a gaping hole at the heart of the Met"
Vacancies leave London without 382 sergeants and 827 constables
Borough forces face up to 15% vacancy rates
The high vacancy rates come on top of significant cuts in police numbers since the Government came to power, with official figures showing 4,694 police officers and PCSOs cut from London's streets between May 2010 and May 2014. A report last year also found that the proportion of the Met's officers deemed 'visible' was the third lowest in England and Wales.
In total, fourteen boroughs had vacancy rates of over 6%, with five facing double digit deficits. Harrow is shown to have the highest percentage of vacancies, with 15% of its sergeant and constable posts unfilled. Waltham Forest had the highest overall number, with 72 vacancies from a force of 664.
The figures were revealed after HMIC warned that "forces across England and Wales plan to achieve most of their savings by reducing the number of police officers, PCSOs and police staff… most of the savings [of the MPS] come from reducing the size of the workforce."
London Assembly Labour Group Police and Crime Spokesperson, Joanne McCartney AM, said:
"In his manifesto Boris Johnson pledged to put more officers on the beat. In reality what we have seen is nearly five thousand police officers and PCSOs cut from London's streets since this Government came to power. Now we learn that on top of this, some forces are missing 15% of their sergeants and constables due to unfilled vacancies. It is an absolute scandal that police numbers have been allowed to fall this low, and these vacancies are leaving a gaping hole at the heart of the Met. 
"Whilst a small churn in the number of officers is to be expected, these are deeply concerning figures. When a force has up to 15% of its positions unfilled we need to ask not only what impact that has on policing, but why it was allowed to happen in the first place. Either the depth of officer morale is so low they are haemorrhaging officers, or these posts are being kept open to keep costs down. Either way, the Mayor should take immediate action to ensure our police force is up to strength and vacancies are filled as quickly as possible."
NOTES
Joanne McCartney is a Labour London Assembly Member for Enfield and Haringey.
A breakdown of police vacancies by borough is available here.
Police vacancy figures across London boroughs (as of 31 May 2014) were supplied in response to a question to the Mayor from Joanne McCartney AM. The combination of borough vacancies and neighbourhood policing team vacancies totalled 1,209.
Actual police officer strength across London boroughs (as of May 2014) were published on London Datastore (figures are accessible via the raw data link, and then by clicking on Police Officers and Staff Numbers, by Borough/Business Unit).
The MPS has the third lowest proportion of officers that are deemed 'visible' in England and Wales 2013-14, at 52%. (Value for Money Profiles, HMIC, November 2013, p 43). 
HMIC warned that "… most of the savings [of the MPS] come from reducing the size of the workforce." In its report Responding to Austerity – Metropolitan Police Service (p 16).